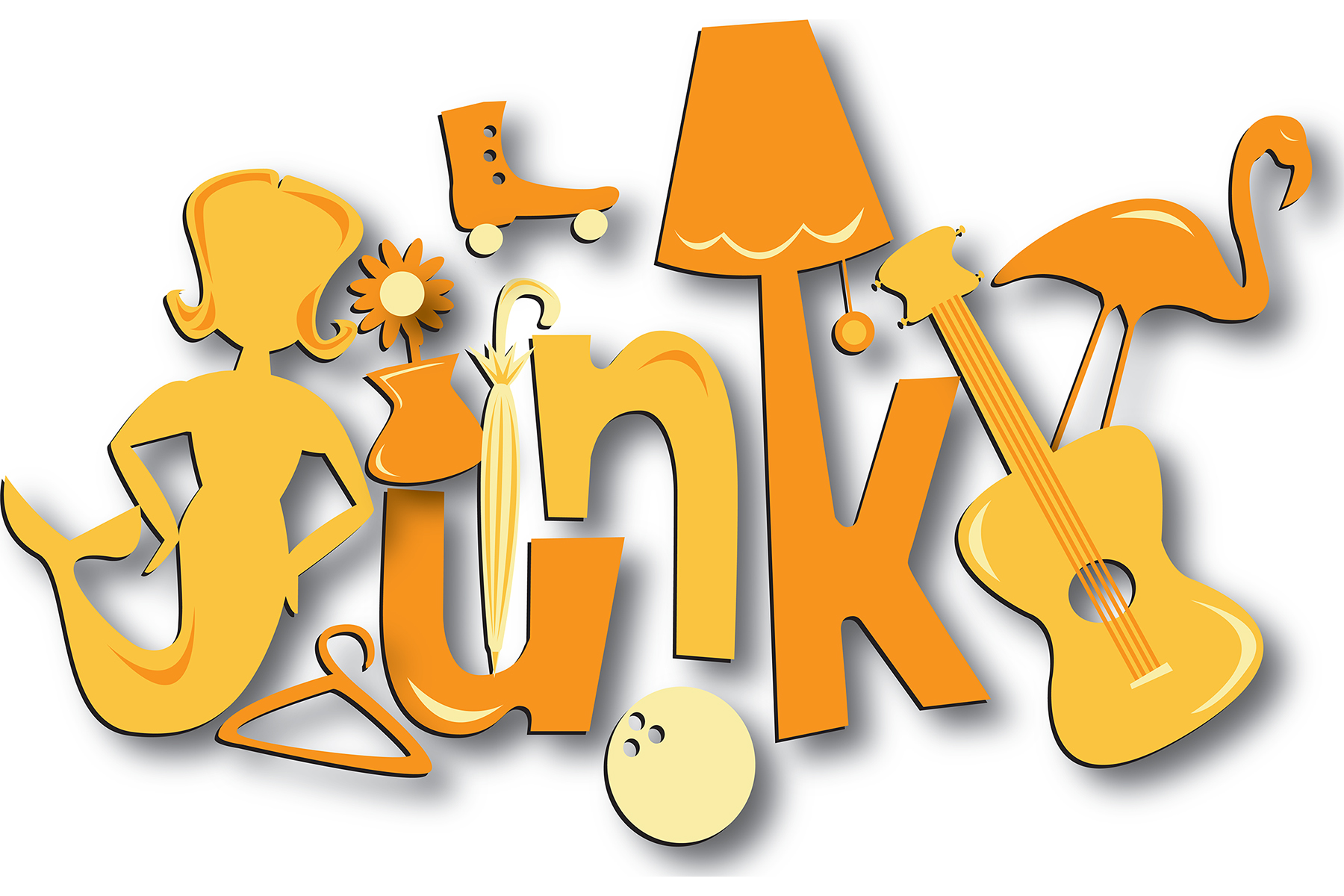 This is a story about a yard sale, a mermaid and the lives of the people around it, both sellers and buyers. Karissa is holding a sale to get rid of some excess baggage—including the "junk" left behind by her ex-boyfriend, Dwight. Things get kinda' complicated when he shows up to the sale unknowingly with his new girlfriend. A trio of veteran pickers add to the fun.
This is the premiere of a new musical from the minds of Molly Bass and Jeff Hartman, developed at Hickory Arts & Hickory Theatre over the course of two years. It's also the debut of the newly renovated Firemen's Kitchen at Hickory Theatre, so come check it out!
"The workshop process itself evolved as much as the musical over time," says Hartman. Jeff Hartman, "Junk" composer, is the Artistic Director and a teaching artist for Hickory Arts, specializing in artist development. "We began writing the music at Hickory Arts over the course of a year. When Hickory Theatre got on board in year two, HCT Artistic Director and 'Junk' director, Pamela Livingstone, began 'casting' a monthly workshop with different readers and audience members or 'listeners,' if you will. The readers gave us cold readings, some prepared ahead of time, all followed by a discussion about what worked for them and the listeners and what they would like to know more about or see happen. It helped me, as the music guy, imagine where music should or shouldn't materialize. Musically, the initial workshops didn't benefit me as much until we were able to permanently cast the show and continue to workshop it with folks who could better familiarize themselves with the music, work it, experiment with it and pick up where we left off from month to month. Seeing folks on their feet, getting a better sense of the nonverbal and physical timing contributed a great deal to the workshops."
"I work with songwriters regularly in both a co-writing and supportive writing way. My work with Molly has leaned more towards a supportive role. I contributed a few lyrics. Molly made it very easy to understand the concept of what she wanted musically from song to song; character to character. Several songs from 'Junk' began prior to the script. It's important for folks to know that Molly is a brilliant melody writer. My goal and role was to get on paper the melody and lyrics in her head and then support them musically and thematically. Style and tempo often were determined by the character and purpose of each song. Casting the show and continuing to workshop it with a regular cast has made the process of 'trying things on' much easier."
"Everyone in the cast, including the stage managers, have had an influence on this show. All, I believe, have inspired Molly to turn many corners. I only want credit where credit is due. That's very important to me and something I instill in the songwriters I help develop at Hickory Arts. To say it's a Bass/Hartman show would mean everything was conceptualized, written, etc. down the middle. That's simply not the case, here. It's more accurate to say 'Book by Molly Bass—Music by Molly Bass & Jeff Hartman—Directed by Pamela Livingstone'"
"I like to call it a 'Psuesical.' That would be a 'psuedo-musical.' It's a play with music vs. a musical with some lines thrown in between. Molly is brilliant, hilarious and the simplicity of it all is what makes her very own brand of humor and writing so special. It's been a pleasure contributing to 'Junk.'"
"The spark for 'Junk' came from a passage in the book, 'The Mermaid Chair,' by Sue Monk Kidd," Bass says. Molly Bass is "Junk's" playwright. Many of her plays have been produced at Hickory Theatre. "She describes a painting of a mermaid diving to the bottom of the ocean with different objects streaming off of her—a spatula, refrigerator magnets, apple peels, etc. So my mind jumped to—'what if a mermaid had a yard sale?' That description also led me to think about cleansing, baptism, renewal. Then 'Karissa,' the main character of 'Junk,' was born!"
"The opening song,'Everything Must Go,' was the first song I came up with. The first day Jeff and I met to work on this project—I'll never forget it—and I forget everything! I sang my little ditty to him and then I was transformed into a little kid at a magic show (This kind of thing happened over and over). To watch and hear Jeff Hartman take one of my little melodies and turn it in to a real, full-blown song is one of the coolest things I've ever seen. Working on this show with him has been the most amazing creative experience I've ever had. The freedom to try anything, go in any direction, with no fear—well, that's what we had working on these songs. That kind of environment is an artist's utopia and just being with Jeff somehow makes you be bolder and smarter and funnier; he really ups your game. So, basically, working with Jeff Hartman is like working with a cheer-leading, magical, celestial being. You might not want to print that. A little strong. I've been told I'm a little on the dramatic side."
"The workshop process definitely changed the play! In fact, the play just had a little make-over as of last Sunday! It can be frustrating and overwhelming listening to everyone's thoughts and opinions but it is also exhilarating and inspiring once it all shakes out. I felt like I was left with a buffet of ideas and options and I am so excited and pumped with the final draft—I could bust! We have a rock star cast! Pam is doing cool unique staging in the new space! It's all very thrilling!"
Performances are Jan 9-31, 8 pm on Fridays & Saturdays and 7:30 pm on Thursdays in the newly renovated Firemen's Kitchen at Hickory Theatre. Tickets are $16 and can be purchased online at www.hickorytheatre.org or by calling 828-328-2283. This show is rated PG-13 for adult language.
"Junk" is produced by Jim and Judith Tarlton. This production is part of Hickory Theatre's 2014-15 season, brought to you by Paramount Automotive. Hickory Community Theatre is a Funded Affiliate of the United Arts Council of Catawba County.