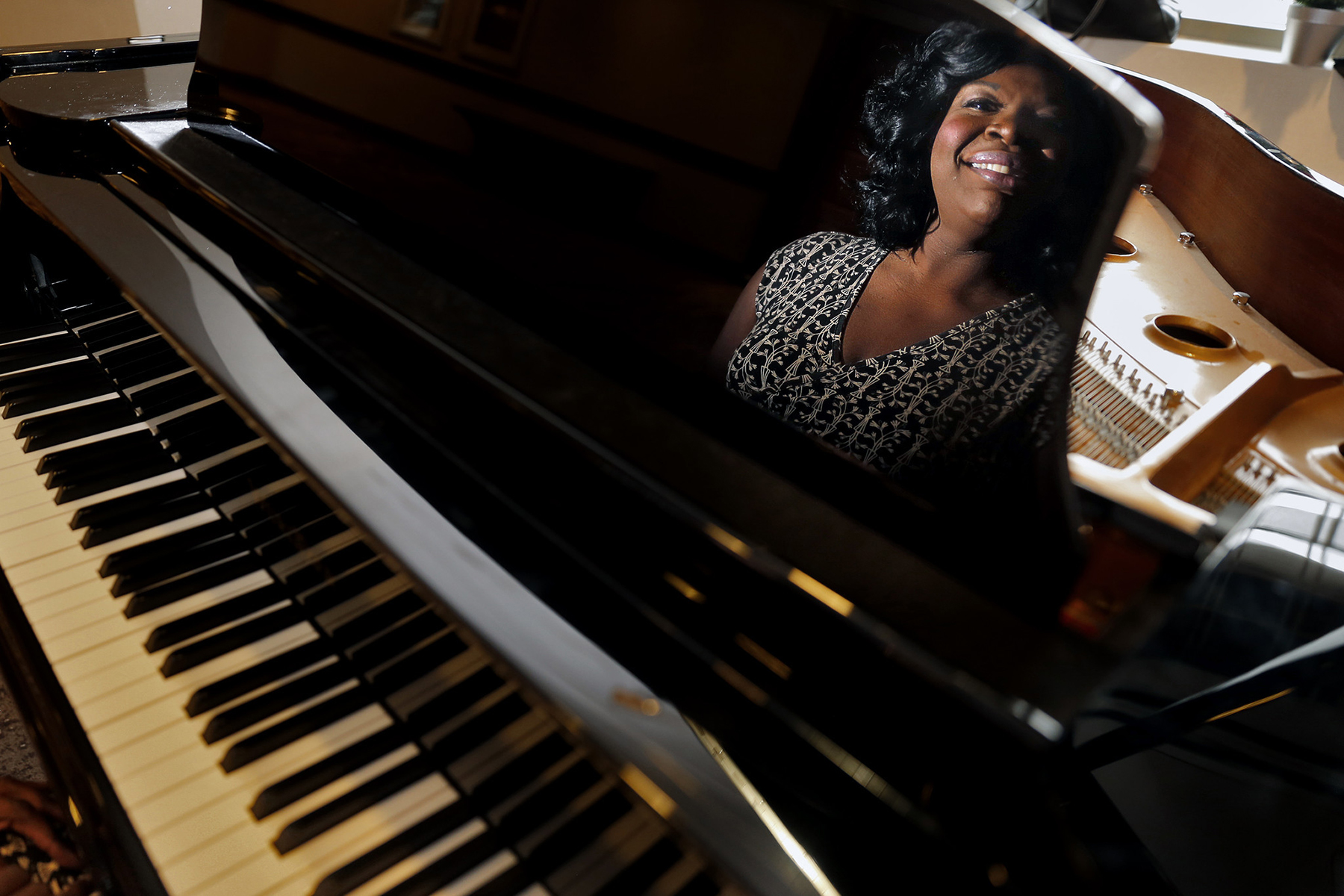 Please join us on Saturday, April 22nd at Old Post Office Playhouse for the second in this season's series of "Friends of John Coffey" concerts featuring triple threat Laurice Lanier. Tickets are $12 and can be purchased at Old Post Office Playhouse and online at thegreenroomtheatre.org. Performance begins at 7:30 pm.
The old Newton Post Office, located on the 1924 Courthouse Square in downtown Newton, was acquired and renovated into the Old Post Office Playhouse. The Green Room moved into its brand new, state-of-the-art facility and mounted its first show there in 2010.
Laurice Lanier is a professional vocalist and entertainer, vocal coach, worship leader and tap dancer. Ms. Lanier, named by Maryland Public Television as "One of the Most Versatile Voices on the Planet," is originally from Jackson, TN. Lanier's strong vocal training comes from the incomparable Edith Bers. She has studied piano since the age of 6. Her piano training comes from the Late Alicia Dunn of Chicago, IL and Soo-Young Kim, New York, NY. Ms. Laurice studied Musical Theater, Dance, Piano and Voice at Governor's School of the Arts, Murfreesboro, TN, Hartwick College Summer Music Festival & Institute, Oneonta, NY and Interlochen Performing Arts, Interlochen, Michigan.
Lanier is a graduate of The Juilliard School where she majored in Vocal Performance and Foreign Language. Lanier has over 20 years of teaching music privately, directing choirs, conducting master classes and performing in churches and performance halls in the US and abroad. Laurice is known as an exquisite and professional Performer and Entertainer, Piano, Voice, Theater, Dance and Fitness Instructor, Lecturer and Pedagogy Scholar.
Ms. Lanier has performed various roles in opera houses, theatres, concerts halls, private functions and churches throughout the United States and abroad including the Metropolitan Baptist Church, Washington, D.C., Jackson Symphony Orchestra, Jackson, TN, Spiritual Concert Series with Gaby Leib Cuturais Sao Paulo, Brazil, Rio di Janeiro, Brazil and the Capitol, Brasilia, Sigma Gamma Rho's National Convention in Miami, Florida, Carnegie Hall as a Leontyne Price Showcase Winner, New York, NY, Holiday Pops Concert with the Illinois Symphony Orchestra in Springfield, IL and the Black History Opera View with Opera Memphis, Memphis, TN and the Nashville Symphony Orchestra for their Martin Luther King Celebration at the Nashville Performing Arts Center in Nashville, TN.
Ms. Lanier's theatre credits include Director Baz Luhrmann's La Boheme on Broadway and Marion J. Caffey's 3 Mo' Divas.
Lanier has been awarded various awards and honors. She opened TN's General Assembly with a performance of America the Beautiful on Tennessee's Capitol Hill where TN House of Representative Matt Kisber presented Ms. Lanier with The House Joint Resolution in her honor; Outstanding Musician Award from the Interlochen Arts Camp, Interlochen, MI; Most Outstanding Musician Award from Hartwick College Summer Music Festival & Institute, Oneonta, NY.
Laurice received scholarships to attend Opera Works Intensive Study at University of California at Northridge and the Music Academy of the West under the direction of Opera Diva, Marilyn Horne, in Santa Barbara, CA. Her most recent award comes from her performance on the 3 Mo' Divas album. The album was nominated for a 2010 Image Award for Best Duo, Group or Collaboration with artists Alicia Keys & Jay-Z, The Black Eyed Peas, Rihanna, and Kanye West. Ms. Lanier was selected out of three thousand singers to represent the state of New York in the Hans Gabor Belvedere Competition in Vienna, Austria. She was one out of fourteen singers to make it to the finals and perform in Vienna's beautiful and elegant city hall. Ms. Lanier performed at the World Famous Apollo in honor of Marian Anderson and Mahalia Jackson for the 50th Anniversary of the "March on Washington." Ms. Lanier has served as the "Official Private Vocal Instructor" for The United States Air Force Heritage of America Band's vocalists.
Currently, Ms. Lanier continues exquisite performances, teaches private vocal technique, serves as a new project developer with Stretch-n-Grow Hampton Roads and instructs tap and musical theater with Dance Works; Yorktown, VA. Ms. Lanier also serves as Worship Leader for Langley Air Force Base Bethel Chapel; Hampton, VA. Ms. Lanier recently appeared on the Harry Connick, Jr. syndicated talk show as "Triple Threat."
Menno Feenstra, Artistic Director of the Royal Opera House said, "When Laurice sings you forget the bad in your life." Eric Reszynak, writer and critic for the Rochester City Newspaper said, "If you look inside Lanier, you will find a small hole that would somehow be connected to God's walkie-talkie." Ms. Lanier epitomizes the spirit and commitment that is characteristic of an authentic artist; her pursuit of excellence in all her endeavors is clearly deserving of the respect and admiration.
John Coffey has worked in numerous regional theatres throughout the U.S. including Mount Gretna, PA, Seven Angels, CT and Cape Fear, NC.
International Touring includes 42nd Street (Moscow, Russia), North American Tours of Evita (2009) and 3 Mo' Divas (2006–2010), both as Assistant Conductor. Nationally, he served The Full Monty as Music Director for NETworks. Off-Broadway experience includes Naked Boys Singing as well as Danny & Sylvia and The Danny Kaye Musical. John was the assistant conductor for Into The Woods in Portland, Maine (2010) and Nine in Brugge, Belgium (2009), both with the Intermezzo Music Festival.
With a Master's degree in Piano Performance from the Juilliard School, John has performed as a concert pianist with various orchestras and his skills have given him the opportunity to play for a number of legendary artists, including Aaron Copland and Leonard Bernstein. John later ventured into musical theatre and created four musicals of his own, including We Are The People Too.
In addition to his skills as a musician and musical director, John worked as an arts administrator and served on the board of the North Carolina Theatre Conference. Always eager to grow as an artist, John originated the role of Oscar in the historic Moscow production of 42nd Street.
John returned to Hickory in 2011 and is available for Beginner, Intermediate and Advanced Piano lessons as well as Theory and Vocal Coaching at Hickory Arts.
John Coffey is a grant recipient. The Friends of John Coffey 2016-2017 Tour is supported in part by a grant from the United Arts Council of Catawba County. Additional sponsors include Robert Abbey and Hickory Arts.
The United Arts Council of Catawba County was formed as the Hickory Arts Council in 1960. They were re-incorporated in 1979 as the Catawba County Council for the Arts and they adopted their current name in 2006 to reflect their partnerships with Catawba County's vibrant cultural organizations and their supportive local government. Each year, they conduct a United Arts Fund campaign which provides operating support for their Funded Affiliate organizations. They are a major source of grants for organizations and individual artists. Their offices are located in the West Wing, a newly renovated building, located on The SALT Block. They are supported by the North Carolina Arts Council, the governmental entities of Catawba County, City of Hickory, City of Conover, City of Newton, City of Claremont and Town of Catawba, as well as corporations, foundations and individuals in the Unifour area. artscatawba.org
Robert Abbey has been designing and manufacturing fine lighting products since 1948. Their design studios, corporate offices and 350,000 square foot factory are located on a 22 acre campus in the picturesque foothills of Hickory, North Carolina. Much of their extensive product line is Made in the U.S.A. Robert Abbey is a family-focused business; quite a few of their team members are 3rd-generation Robert Abbey-employees. It's not uncommon to find three (sometimes four) generations of family and team members on hand. At Robert Abbey, design is their passion. They work very hard to bring their customers the most trend-right merchandise with the highest quality standards at the best prices possible. Their website is brought to you by Fashion Light Center, LLC – LightTrends.com. They have been a premier authorized dealer of Robert Abbey since 1971. robertabbeylightingstore.com
Hickory Arts is the "un-studio"—a simple, custom, specialized, non-event-driven teaching & production studio dedicated to coaching performance artists from point A to point B. The studio is located at 720 Second Avenue SW, Hickory 28602 behind ITP and across from Hickory Optimist Park (where you'll also find additional parking). For more information about tickets and Hickory Arts, please explore the website or call 828-270-9801.
"Home is where the art is." — hickoryarts.com | Follow us on Twitter! @hickoryarts